In these next few months, I will be using this monthly column to look at the life of John Wesley, a prominent leader in the early Methodist movement in the 1700s in England. My hope is that you will take the time to explore how this ordinary man came to live an extraordinary life for God, riding more than 250,000 miles on horseback (about 45 round-trip flights from New York to LA), and preaching more than 40,000 sermons (that's an average of two sermons a day for 55 years!). His life in an inspiration to us all to serve Christ with greater love and obedience.
I mentioned in last month's entry about my journey to become a pastor that I was profoundly impacted while I studied the life and teaching of John Wesley. There's a lot more to Methodism than the man John Wesley. Still, it wasn't until I learned John's story that I was struck by undeniable power of God that must have been present in 18th century England among the Methodists. This is because Wesley's life is a testimony to the potential of a Christian whose life is surrendered to Christ and under the control of the Holy Spirit.
John was born in 1703, was one of 19 children born to Samuel and Susanna Wesley– although all but 10 of the children died early in life. Such was the horrific nature of child mortality at the time. Both his father and grandfather were ministers, which undoubtedly influenced John's eventual decision to be ordained in the Church of England. Although his mother was not formally educated (for at the time, women were not admitted to universities), she knew Latin and Greek and displayed an impressive knowledge of theology. Susanna ran a strict, disciplined house. As one biographer puts it, she "greatly prided herself on having taught them, one after another, by frequent chastisements to, what do you think? to cry softly." [1] Her discipline, however, emerged from an earnest desire that her children have the education and character that they would need live the Christian life faithfully. This was so important to her that she took efforts to see that both her male and female children received an education.
There is one story in particular from John's youth that at one time, so it is said, every Methodist knew. On February 9, 1709, after 11pm, there was a fire in the rectory (parsonage) in Epworth, England, where John and his family lived. Susanna recounted the event in a letter later that year: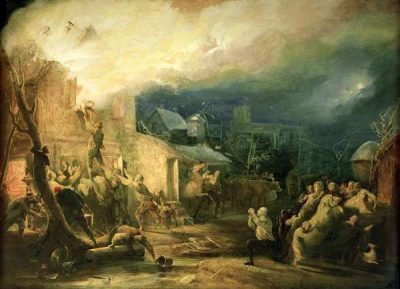 "While Mr. Wesley was carrying the children into the garden, he heard the child [John] in the nursery cry out miserably for help, which extremely affected him; but his affliction was much increased, when he had several times attempted the stairs then on fire, and found they would not bear his weight. Finding it was impossible to get near him, he gave him up for lost, and kneeling down, he commended his soul to God, and left him, as he thought, perishing in the flames. But the boy seeing none come to his help, and being frightened, the chamber and the bed being on fire, he climbed up to the casement, where he was soon perceived by the men in the yard, who immediately got up and pulled him out, Just in the moment of time that the roof fell in, and beat the chamber to the ground. Thus, by the infinite mercy of Almighty God, our lives were all preserved by little less than a miracle, for there passed but a few minutes between the first alarm of fire, and the falling of the house." [2]
Following John's miraculous rescue from the fire, Susanna resolved to take his education and spiritual growth even more seriously. [3] Later in life, John would see himself (as well as those who God graciously saved through faith in Christ) in the terms of Zechariah 3:2: "is not this a brand plucked out of the fire?" When John was 51, he nearly died of tuberculosis, driving him to write his epitaph:
A BRAND PLUCKED OUT OF THE BURNING: …
NOT LEAVING, AFTER HIS DEBTS ARE PAID,
TEN POUNDS BEHIND HIM:
PRAYING,
GOD BE MERCIFUL TO ME, AN UNPROFITABLE SERVANT! [4]
While we don't very much like to use the image of being saved from the fire (presumably of hell), it's undeniable that John sought through his ministry to save others, just as he himself had been saved from the burning house, moments before its collapse. For Wesley, a related goal was the pursuit of holiness of heart and life. This endeavor would become the primary aim of Methodists. Next month, we'll continue to explore the life of John Wesley as Methodism emerges in Britain and America.
---
1. Augustine Birrell, "An Appreciation of John Wesley's Journal," in The Heart of John Wesley's Journal, ed. Percy Livingstone Parker (New York; Chicago; Toronto; London; Edinburgh: Fleming H. Revell Company, 1903), xvii.
2. George Bourne, The Life of the Rev. John Wesley, A. M. with Memoirs of the Wesley Family. To Which Are Subjoined, Dr. Whitehead's Funeral Sermon, and a Comprehensive History of American Methodism (Baltimore: George Dobbin and Murphy; John Hagerty and Abner Neal, 1807), 67.
3. James J. Ellis, John Wesley, Lives that Speak (London: James Nisbet & Co., 1891), 21.
4.  John Wesley, The Heart of John Wesley's Journal, ed. Percy Livingstone Parker (New York; Chicago; Toronto; London; Edinburgh: Fleming H. Revell Company, 1903), 213.