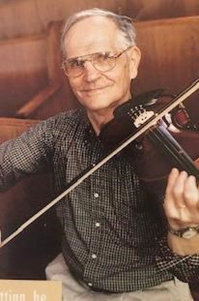 Frank Lee Wright, of Westminster, Maryland, passed away on April 6, 2022, at the age of 98. He entered this world on November 5, 1923, to parents Frank and Meredith Tipton Wright. He had an older brother John Edward Wright. He lived alongside his grandparents, John Jacob Tipton and Grace Amelia Barkley Tipton in an apartment building which his grandfather built and owned. He frequently credited his grandmother Grace [affectionately known as Tippy] with fanning the flames of his faith. This faith was a grounding force for him throughout his life. Understandably the hymn "Amazing Grace" was his favorite hymn.
After graduating from Allegany High School in Cumberland, Maryland his college career was cut short when he enlisted into the Navy during WWII. He served in the North Atlantic aboard the USS Mission Bay where he witnessed a destroyer traveling in his convoy being sunk by a German U-boat. He would later recall that 300 souls were lost that evening. He was always stirred by the words in the Navy hymn "Eternal Father Strong to Save". He would always say," I have seen men in peril on the sea." While at Camp Pendleton CA preparing for the invasion of Japan, the Nuclear Bombs were deployed.
He met Alice Ruth Hoon of New Concord, Ohio when she sang in the choir in his home church. They married in Ohio on September 1, 1946. Their son Kenneth Frank was born a year later and was followed by a daughter Alicelyn Marie in 1951. In January 1955 the couple suffered the loss of their son Kenneth in an automobile accident while he was walking home from school. From this tragedy we learned of the strength of our parents' Christian faith as they were able to forgive the responsible party. For them it was the Christian thing to do. In December 1955 their son Richard Lee was born.
Frank is survived by his daughter, Alicelyn (Lynn) Wright Getty and her husband Gorman E Getty III (Mike) of Cumberland, MD. and his son Richard Lee Wright of Savannah, GA. His grandchildren include Gorman Andrew Getty and his wife Alison of Salisbury, MD; Erin Elizabeth Dolhi and her husband Andrew John of Pittsburg, PA and Andrew Tipton Wright and his wife Becca of Baltimore. He is also survived by four great grandchildren. He is fondly remembered by his nieces and nephews who describe him as always full of good cheer.
Following their retirement Alice and Frank enjoyed traveling with family and friends and service to their church. When Alice [ whom he affectionately called Dutchy] suffered a stroke in 1990 he provided non-stop care of her every need faithfully and lovingly for the next seven years until her death in 1998.
At that time, he made the decision to "grow while grieving" by first purchasing a violin and then entering Western Maryland College to complete his bachelor's degree at the age of 79. Wishing to become a Methodist Minister, he learned upon applying to Seminary that he was 8 years past the mandatory retirement age. So, in typical positive Frank fashion, he just audited classes for a few years.
Living Independently until just 16 months ago he required some assistance and received fabulous loving care at Carroll Lutheran Village. Struggling at first with his loss of independence and his need for help he settled into a new routine, which included playing the piano daily. After contracting and surviving COVID last Thanksgiving he required additional care.
Joyous, playful, caring and laughing until the very last 24 hours of his life he brought a smile to all he encountered. One Nurse commented upon meeting him that his faith and attitude turned her bad day around.
While walking by the nurse's station the night he died, they asked how Mr. Frank was doing, and tearfully explained that he always tells them that "they are the hands and feet of Jesus here on earth".
Sitting in the Chapel during the last month of his life Frank commented, "The Bible contains a lot of truth but don't always understand it. But the Hymns we sing make it all crystal clear".
Frank will be interred at Baltimore National Cemetery alongside his wife and son on Tuesday April 12th at 1PM with Navy Honors.
Memorials may be sent to Kenneth F. Wright Memorial Fund, c/o Lansdowne Methodist Church 114 Laverne Avenue Baltimore, MD 21227.